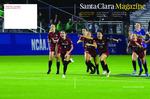 Description
18 - WE ARE THE CHAMPIONS The pandemic stole an entire year of games from them. But this team still won it all. Written by Harold Gutmann. Illustrated by Liam Eisenberg.
26 - INFORMED BY STRUGGLE. How hardship forged a sense of gratitude in SCU finance professor Meir Statman and his wife, Navah. Written by Deborah Lohse.
30 - TWEETING GOOD There's a Bronco who finds hope, God, and cat pictures online. We talk with @padreSJ. Interviewed by Leslie Griffy. Illustrated by Kyle Hilton.
34 - SIGNALS FROM A CHANGING PLANET. The imprints of humans on the environment spell a foreboding future. Could the way we respond change everything? Written by Sarah Young '24.
38 - HOPE IN THE ASHES After a year of tragedy, a community grieves and finds renewed communion with God. Written by Tracy Seipel. Illustrated by Nick Matej.
Publication Date
Fall 2021
Publisher
Santa Clara : Santa Clara University, 2021.
Disciplines
Arts and Humanities | Business | Education | Engineering | Law | Life Sciences | Medicine and Health Sciences | Physical Sciences and Mathematics | Social and Behavioral Sciences
Recommended Citation
Santa Clara University, "Santa Clara Magazine, Volume 62 Number 2, Fall 2021" (2021). Santa Clara Magazine. 137.
https://scholarcommons.scu.edu/sc_mag/137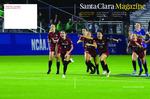 COinS