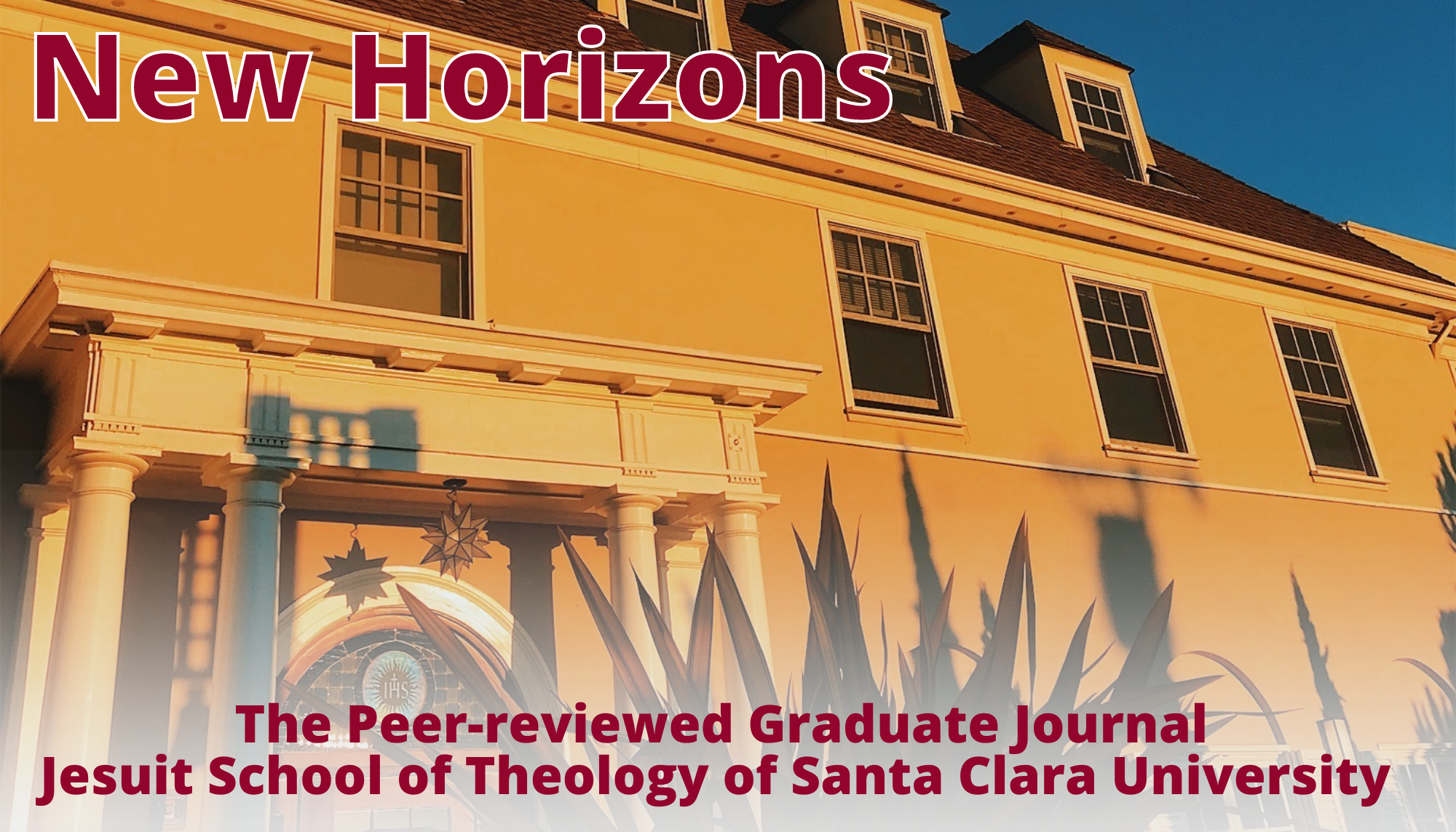 About This Journal
Mission
New Horizons Journal is peer-reviewed by students of the Jesuit School of Theology (JST) at Santa Clara University. New Horizons seeks to uplift the voices of emerging graduate student writers of various disciplines within the field of theology. Because the Journal shares in JST's commitment to academic excellence, the Journal will accept only the highest quality material for publication, material which echoes JST's dedication to the pursuit of culturally contextualized theology.
The 36th General Congregation of Jesuits (2016) affirmed the enduring value of living and serving as a "discerning community with open horizons" (Decree 1, n.7). In the spirit of these words, New Horizons is committed to the values of prophetic dialogue, global perspectives on faith and culture, and joyful witness of the Gospels. In all things, New Horizons strives to remain true to the Catholic and Jesuit tradition of contemplation in action for the greater glory of God.
The views and opinions expressed by the Journal are those of the authors and do not necessarily reflect the official policy or position of JST. New Horizons is a peer-reviewed, open-access, online journal that publishes accepted articles biannually.
Journal History
New Horizons Journal was formerly known as New Wineskins while it ran at the Jesuit School of Theology at Berkeley (JSTB). Volume 1 Issue 1 of New Wineskins was published in Summer 2006 by Editor Tim Manatt, S.J. and an Editorial Board composed of Sean Dempsey, S.J., Bobbi Dykema Katsanis, Corinna Guerrero, and Pius Ojara, S.J. Volume 1 Number 2 was published in Winter 2006/2007; Volume 2 Issue 1 was published in Spring 2007; Volume 2 Issue 2 in Fall 2007; Volume 3 Issue 1 in Spring 2008; Volume 4 Issue 1 in Spring 2009. The Appendix contains the New Wineskins bylaws and original proposal. In continuity with New Wineskins and in an agreement between former Editor Tim Manatt, S.J. and inaugural Editor of New Horizons Journal Barbara Anne Kozee, New Horizons will begin its inaugural issue as Volume 5 Issue 1.