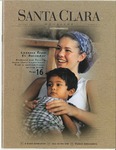 Description
4 - A GRAND WEEKEND By Adam Breen. At the Grand Anniversary Weekend in June, thousands of alumni, family, and friends gathered to celebrate 150 years of Santa Clara University.
12 - MUSICAL CHAIRS By Jacqueline Tasch. Peter Minowitz loves an audience, whether it is the students in his political science classes or the jazz lovers in local clubs.
14 - ASK THE EXPERTS By Elizabeth Kelley Gillogly '93. Santa Clara University ambassadors help recruit future Broncos.
16 - LESSONS FROM EL SALVADOR By Douglas Sweet. Faculty and students reflect on a spring break "immersion" trip, which for some was a life-changing experience.
Publication Date
Fall 2001
Publisher
Santa Clara : Santa Clara University, 2001.
Disciplines
Arts and Humanities | Business | Education | Engineering | Law | Life Sciences | Medicine and Health Sciences | Physical Sciences and Mathematics | Social and Behavioral Sciences
Recommended Citation
Santa Clara University, "Santa Clara Magazine, Volume 43 Number 2, Fall 2001" (2001). Santa Clara Magazine. 98.
https://scholarcommons.scu.edu/sc_mag/98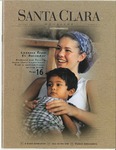 COinS