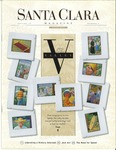 Description
8 - THE MURAL OF EDUCATING FOR CULTURE By Paul Locatelli, S.J. Santa Clara students are more multicultural than ever, and they have grown up in a global society where digital literacy is key. In this excerpt from his convocation address, the University president explores how SCU can better teach students in this wired world.
11 - FOR THE RECORD By Julie F. Morris. The Denshō Project not only preserves the stories of Japanese Americans, it also offers lessons in justice. And SCU Professor Steve Fugita has been involved since the beginning.
16 - JUST ACT By Eliizabeth Kelley Gillogly '93. "The fulfillment of Jesuit education is not just learning about justice, it is doing justice," said Leon Panetta '60, J.D. '63 at recent national conference held at Santa Clara to explore the challenges of educating for justice.
20 - SLAYING THE SPEED DEMONS By Tamara Straus. Twelve-hour work days plus traffic plus the carrot of cashing in stock options equals a frantic pace of life. Why do we all get such a rush from rushing?
Publication Date
Winter 2000
Publisher
Santa Clara : Santa Clara University, 2000.
Editor
Elizabeth Kelley Gillogly '93 (Acting Editor)
Recommended Citation
Santa Clara University, "Santa Clara Magazine, Volume 42 Number 3, Winter 2000" (2000). Santa Clara Magazine. 96.
https://scholarcommons.scu.edu/sc_mag/96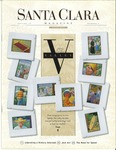 COinS