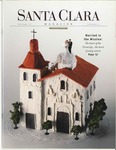 Description
8 - THINKING ON THEIR FEET By Tegan McLane. A renowned choreographer coaches SCU dance students to craft bold, new expressions.
12 - MARRIED IN THE MISSION By Tegan McLane. Alumni remember returning to SCU for the most precious - and sometimes the most traumatic- days of their lives.
20 - THE GOOD DEATH By Connie Hinckley. Can physician-assisted suicide provide death with dignity as Oregon voters think?
26 - LET THEM EAT WINDOWS By Susan Vogel. An SCU symposium takes a close look at Microsoft, which grew from a little company that could to an engine geared to outdistance competitors .
Publisher
Santa Clara : Santa Clara University, 1998.
Disciplines
Arts and Humanities | Business | Education | Engineering | Law | Life Sciences | Medicine and Health Sciences | Physical Sciences and Mathematics | Social and Behavioral Sciences
Editor
Ann Granning Bennett
Recommended Citation
Santa Clara University, "Santa Clara Magazine, Volume 40 Number 2, August 1998" (1998). Santa Clara Magazine. 88.
https://scholarcommons.scu.edu/sc_mag/88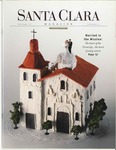 COinS