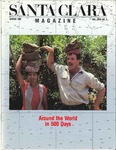 Description
10 - AROUND THE WORLD IN 500 DAYS How and why Mike Brozda stepped off the treadmill and onto the "road less traveled." By Mike Brozda
16 - TURNING OFF TV's MIND-SET Confessions of a "cultural heretic" who turned off TV and selected a different channel. By Mitch Finley
19 - ADVOCATE FOR THE UNDERDOG Peter Conk '71, as seen through the eyes of faculty friend and mentor, Father Tenny Wright, S.J. By Tennant C. Wright, S.J.
24 - LETTING GO A three-step lesson in the fine art of delegation on the way to becoming a leader. By Timothy W. Firnstahl
Publication Date
Spring 1987
Publisher
Santa Clara : Santa Clara University, 1987.
Disciplines
Arts and Humanities | Business | Education | Engineering | Law | Life Sciences | Medicine and Health Sciences | Physical Sciences and Mathematics | Social and Behavioral Sciences
Recommended Citation
Santa Clara University, "Santa Clara Magazine, Volume 29 Number 3, Spring 1987" (1987). Santa Clara Magazine. 74.
https://scholarcommons.scu.edu/sc_mag/74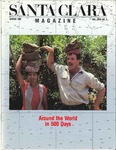 COinS