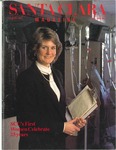 Description
9 - CAMPAIGN FINANCING A look at what's wrong with modern campaigns and a creative, alternative approach to financing them. By Timothy J. Lukes
13 - TRADITION SHATTERED One hundred women broke the all male tradition at SCU 25 years ago. They returned to the campus to celebrate. By Barbara Wyman
18 - PAUL AQUINO: 0 & A Paul Aquino '65 talks about his famous sister-in-law, Cory, his family, and life in the Philippines.
21 - A YEAR FOR OTHERS Seven 1986 graduates chose to spend this year with the ·Jesuit Volunteers. They talk about what it's like. By Julie Yeggy
25 - YOU'RE GOING TO LIKE THIS KID A highly recruited freshman guard likes what he finds at Santa Clara. By Peg Major
Publication Date
Winter 1987
Publisher
Santa Clara : Santa Clara University, 1987.
Disciplines
Arts and Humanities | Business | Education | Engineering | Law | Life Sciences | Medicine and Health Sciences | Physical Sciences and Mathematics | Social and Behavioral Sciences
Recommended Citation
Santa Clara University, "Santa Clara Magazine, Volume 29 Number 2, Winter 1987" (1987). Santa Clara Magazine. 73.
https://scholarcommons.scu.edu/sc_mag/73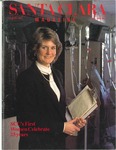 COinS