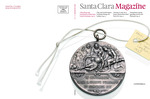 Description
14 - AFTER THE CANNONBALL What does it mean to wrestle with your own human limitations and vulnerability as you follow the footsteps of a saint? Hung Pham, S.J.
18 - GROWING When I was little, there seemed to be this nondescript era of life, a foggy "someday," when becoming an adult just happened. Nikhita Panjnani '24.
20 - HOW IT STARTED, HOW IT'S GOING For decades, the internet has shaped the way we communicate, but two years of being extremely online hit fast forward on its real-world impact. Matt Morgan.
26 - NURTURING NATURE A story in two stories: How do children change given their circumstances, and how can we affect the direction of that change? Leslie Griffy.
28 - SURRENDERING & SAYING GOODBYE A journey to the moment when goodbye helps you move forward. Laura L. Ellingson.
Publication Date
Fall 2022
Publisher
Santa Clara : Santa Clara University, 2022.
Disciplines
Arts and Humanities | Business | Education | Engineering | Law | Life Sciences | Medicine and Health Sciences | Physical Sciences and Mathematics | Social and Behavioral Sciences
Recommended Citation
Santa Clara University, "Santa Clara Magazine, Volume 63 Number 2, Fall 2022 [Print issue 62:2]" (2022). Santa Clara Magazine. 139.
https://scholarcommons.scu.edu/sc_mag/139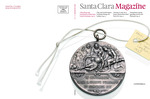 COinS