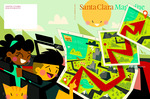 Description
14 - VALUE PROPOSITION With more people going to college than ever before, how do we calculate the worth of a college degree? Lauren Loftus.
22 - HUMANITY IN THE HUMOR Santa Clara Magazine sat down with Assistance Professor Danielle Morgan to explore how laughter can be lifesaving—and life affirming. Leslie Griffy.
26 - TOMORROWLAND So really, what happens next? We chat with experts about how the pandemic could change our world as we know it. Leslie Griffy and Tracy Seipel.
32 - A BREAK Explore what you see when you step away from it all—and discover some flighty friends along the way. John Farnsworth.
Publication Date
Spring 2021
Disciplines
Arts and Humanities | Business | Education | Engineering | Law | Life Sciences | Medicine and Health Sciences | Physical Sciences and Mathematics | Social and Behavioral Sciences
Recommended Citation
Santa Clara University, "Santa Clara Magazine, Volume 62 Number 1, Spring 2021 [Print issue v.61:1]" (2021). Santa Clara Magazine. 136.
https://scholarcommons.scu.edu/sc_mag/136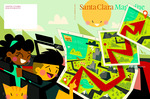 COinS