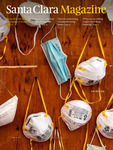 Description
16 - THE GIFT Is sacrifice, given willingly and with love, what makes us human? Leslie Griffy.
20 - NOT A MOMENT, BUT A MOVEMENT From protests in Benson in 1969 to a multi-decade movement called Unity, students of color have consistently pushed SCU to progress. Matt Morgan.
28 - ON BEING BETTER Discover the ways we can better support each other, particularly as white people seek to become allies to people of color. Lauren Loftus.
32 - THE SACRIFICIAL TWEET Social media missteps are costly, perhaps now more than ever. Just what are we willing to give up to keep posting? Lauren Loftus.
Publication Date
Fall 2020
Publisher
Santa Clara : Santa Clara University, 2020.
Disciplines
Arts and Humanities | Business | Education | Engineering | Law | Life Sciences | Medicine and Health Sciences | Physical Sciences and Mathematics | Social and Behavioral Sciences
Recommended Citation
Santa Clara University, "Santa Clara Magazine, Volume 61 Number 3, Fall 2020 [Print issue v.61:2]" (2020). Santa Clara Magazine. 135.
https://scholarcommons.scu.edu/sc_mag/135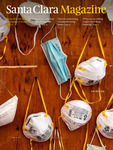 COinS