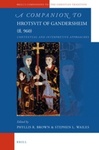 A Companion to Hrotsvit of Gandersheim (fl. 960)
Description
Hrotsvit, a canoness in the German convent Gandersheim, wrote Latin poems, stories, plays, and histories during the reign of Emperor Otto the Great (962-973). She expresses a strong sense of authorial mission in letters, prefaces, and dedications. These personal writings, as well as her full literary corpus, are studied in twelve original essays by scholars from Europe and North America, who bring several perspectives to bear. Her historical roots are shown, both in her use of Christian literary tradition (e.g., the legend) and in her understanding of political forces shaping her time. Her strong spirituality emerges from vivid portraits not only of martyrs but also of men and women who question and doubt the Lord, while her openness to problems of sexuality, and of the need for women to realize their individuality and particular gifts, is surprisingly modern.
Contributors include: Walter Berscin, Katrinette Bodarwé, Jay Lees, Gary Macy, Linda McMillin, Florence Newman, and Lisa Weston
This paper has been withdrawn.