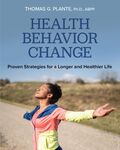 Title
Health Behavior Change: Proven Strategies for a Longer and Healthier Life (First Edition)
Role
Thomas G. Plante (Author)
Description
Behavior is hard to change, especially when habits are well-ingrained into our daily lives and lifestyle. Yet, many people are desperate to change their behaviors, especially when it comes to health-related habits that can contribute to significant health problems.

Health Behavior Change: Proven Strategies for a Longer and Healthier Life presents readers with a wide variety of evidence-based best practices in cognitive behavioral therapy that can help individuals change their health behaviors for good. The simple and straightforward workbook features a collection of questions and exercises that inspire thoughtful reflection and action. Dedicated sections of the workbook tackle individual behaviors—including diet, exercise, alcohol, smoking, sleep, and more—allowing readers to focus on topics that are of interest to them. Principles and tools for health behavior change are outlined in each chapter, providing readers with the tools they need to initiate long-term behavioral transformation.

Based on Thomas G. Plante's experiences teaching health psychology to college students for over 30 years and treating clinical patients struggling with health behavior efforts for over 40 years, Health Behavior Change is an ideal resource for anyone interested in improving their health and well-being through evidence-based best practices. The workbook is also a useful tool for clinicians treating patients who wish to make behavioral-based health changes in their lives.
Buy Link
https://titles.cognella.com/health-behavior-change-9798823324137#
Publisher
Cognella Academic Publishing
Recommended Citation
Plante, Thomas G., "Health Behavior Change: Proven Strategies for a Longer and Healthier Life (First Edition)" (2024). Faculty Book Gallery. 586.
https://scholarcommons.scu.edu/faculty_books/586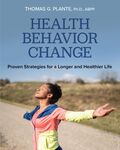 COinS