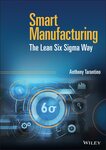 Smart Manufacturing: The Lean Six Sigma Way
Role
Anthony Tarantino (Author)
Description
Explore the dramatic changes brought on by the new manufacturing technologies of Industry 4.0
In Smart Manufacturing, The Lean Six Sigma Way, Dr. Anthony Tarantino delivers an insightful and eye-opening exploration of the ways the Fourth Industrial Revolution is dramatically changing the way we manufacture products across the world and especially how it will revitalize manufacturing in North America and Europe.
The author examines the role and impact of a variety of new Smart technologies including industrial IoT, computer vision, mobile/edge computing, 3D printing, robots, big data analytics, and the cloud. He demonstrates how to apply these new technologies to over 20 continuous improvement/Lean Six Sigma tools, greatly enhancing their effectiveness and ease of use.
The book also discusses the role Smart technologies will play in improving:
Career opportunities for women in manufacturing
Cyber security, supply chain risk, and logistics resiliency
Workplace health, safety, and security
Life on the manufacturing floor
Operational efficiencies and customer satisfaction
Perfect for anyone involved in the manufacturing or distribution of products in the 21st century, Smart Manufacturing, The Lean Six Sigma Way belongs in the libraries of anyone interested in the intersection of technology, commerce, and physical manufacturing.
Publisher
John Wiley & Sons, Inc.
Recommended Citation
Tarantino, Anthony, "Smart Manufacturing: The Lean Six Sigma Way" (2022). Faculty Book Gallery. 577.
https://scholarcommons.scu.edu/faculty_books/577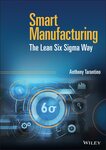 COinS