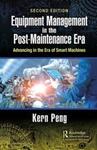 Title
Equipment Management in the Post-maintenance Era: Advancing in the Era of Smart Machines (2nd Edition)
Description
Recent advancements in information systems and computer technology have led to developments in equipment and robotic technology that have permanently changed the characteristics of manufacturing equipment. Equipment Management in the Post-Maintenance Era: Advancing in the Era of Smart Machines introduces a new way of thinking to help high-tech organizations manage an increasingly complex equipment base. It also facilitates the fundamental understanding of equipment management those in traditional industries will need to prepare for the emerging microchip era in equipment.
Kern Peng shares insights gained through decades of managing equipment performance. Using a systems model to analyze equipment management, he introduces alternatives in equipment management that are currently gaining momentum in high-tech industries. The book highlights the fundamental internal flaw in maintenance organizational setup, presents new approaches to replace maintenance functional setup, and illustrates a time-tested transformation and implementation process to help transition your organization from the maintenance era to the new post-maintenance era. Fundamentally, it:
Breaks down the history of equipment into five phases,
Provides a clear understanding of equipment management fundamentals, and
Introduces alternatives in equipment management beyond the mainstream principles of maintenance management.
More specifically, the book examines maintenance management logistics, including planning and budgeting; training and people development; customer services and management; vendor management; and inventory management. Supplying a comprehensive look at the history of equipment management, it analyzes current maintenance practice and details approaches that can significantly improve the effectiveness and efficiency of your equipment management well into the future.
This second edition addresses the role of the development of the Internet of Things (IoT) and significant advancements in artificial intelligence (AI) and machine learning (ML) in enabling a new generation of smart machines, which have in turn laid the foundation for Industry 4.0. Equipment utilizing IoT and sensors can monitor components and allow them to be serviced at an exact time without the need for a preventive maintenance schedule. Moreover, equipment replacement rarely occurs at the end of the piece of equipment's natural life; rather, replacement is driven by the introduction of new technologies and products, all of which lead to less maintenance activities and reduces the importance of the traditional maintenance function. Maintenance departments today operate with fewer employees and smaller budgets. At a point when machines are smart enough to keep themselves running or equipment is rendered obsolete by better equipment in a short time, such as with computers and cellphones, companies do not need a maintenance department.
This updated edition reiterates the importance of transitioning to the post-maintenance era to effectively manage today's sophisticated, smart yet expensive equipment. Many changes the author predicted a decade ago are accelerating in the IoT era. Equipment management is moving further away from the maintenance era and advancing deeper into the post-maintenance era. The trend for smart machines is very clear and companies that do not upgrade their equipment will lose their competitiveness. As equipment and factories become smarter, companies must change their practices and organizational structures to manage the new generation of equipment for Industry 4.0.
Buy Link
https://www.routledge.com/Equipment-Management-in-the-Post-Maintenance-Era-Advancing-in-the-Era-of/Peng/p/book/9780367516994
Publisher
Productivity Press (Routledge)
Recommended Citation
Peng, Kern, "Equipment Management in the Post-maintenance Era: Advancing in the Era of Smart Machines (2nd Edition)" (2021). Faculty Book Gallery. 570.
https://scholarcommons.scu.edu/faculty_books/570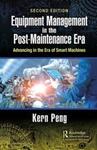 COinS