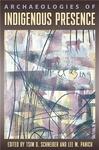 Title
Archaeologies of Indigenous Presence
Role
Tsim D. Schneider (Editor)
Lee M. Panich (Editor)
Description
Highlighting collaborative archaeological research that centers the enduring histories of Native peoples in North America
Challenging narratives of Indigenous cultural loss and disappearance that are still prevalent in the archaeological study of colonization, this book highlights collaborative research and efforts to center the enduring histories of Native peoples in North America through case studies from several regions across the continent.
The contributors to this volume, including Indigenous scholars and Tribal resource managers, examine different ways that archaeologists can center long-term Indigenous presence in the practices of fieldwork, laboratory analysis, scholarly communication, and public interpretation. These conversations range from ways to reframe colonial encounters in light of Indigenous persistence to the practicalities of identifying poorly documented sites dating to the late nineteenth century.
In recognizing Indigenous presence in the centuries after 1492, this volume counters continued patterns of unknowing in archaeology and offers new perspectives on decolonizing the field. These essays show how this approach can help expose silenced histories, modeling research practices that acknowledge Tribes as living entities with their own rights, interests, and epistemologies.
Buy Link
https://upf.com/book.asp?id=9780813069159
Publisher
University Press of Florida
Recommended Citation
Schneider, Tsim D. and Panich, Lee M., "Archaeologies of Indigenous Presence" (2022). Faculty Book Gallery. 569.
https://scholarcommons.scu.edu/faculty_books/569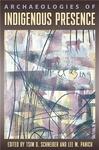 COinS