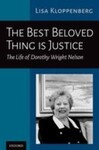 The Best Beloved Thing Is Justice: The Life of Dorothy Wright Nelson.
Role
Lisa A. Kloppenberg (Author)
Description
Dorothy Wright Nelson was a prominent federal judge on the level just below the U.S. Supreme Court for over 40 years. One of the early tenured female law professors and one of the rare female deans in the U.S. legal academy in the 1960s and 1970s, her expertise was in reforming courts to make them more just and accessible for all people. When she became a federal judge in 1980, she helped to make the federal courts more efficient and provide litigants with alternatives—including mediation and arbitration—to resolve cases without greater expense and delay. An ardent believer in more peaceful resolution of conflicts, Judge Nelson educated judges around the world on conflict resolution and the rule of law, often while engaging quietly in human rights advocacy for persecuted Bahá'ís. Her Bahá'í Faith also inspired her judicial opinions providing more equality and due process for the marginalized, including the poor, racial minorities, immigrants, mentally ill, and the powerless. Dorothy and her husband, a state court judge, balanced their professional achievements with their personal commitments in a manner unusual for their time. They devoted considerable energy to raising their two children, spending time with their extended family, and engaging in Bahá'í activities (including world travel, youth camps, weekly Sunday School, and "firesides" in their home). This book captures the life story of an extraordinary female leader and trailblazer in a highly traditional, male-dominated profession, unafraid to challenge the status quo in her pleasant, optimistic, determined, and collegial manner.
Buy Link
https://www.amazon.com/Best-Beloved-Thing-Justice-Dorothy/dp/0197608574
Publisher
Oxford University Press
Keywords
judges, legal education, female leaders, conflict resolution, Bahá'í
Recommended Citation
Kloppenberg, Lisa A., "The Best Beloved Thing Is Justice: The Life of Dorothy Wright Nelson." (2022). Faculty Book Gallery. 562.
https://scholarcommons.scu.edu/faculty_books/562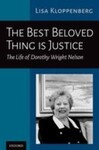 COinS