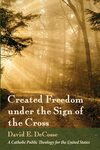 Title
Created Freedom under the Sign of the Cross: A Catholic Public Theology for the United States
Description
The United States is in a crisis of freedom. Influenced by neoliberal economics, the concept of freedom has become identified with an abstract, radical individualism disdainful of responsibility to others and to the past. Signs of this crisis crop up everywhere. Some invoke freedom as justification for refusing to wear a mask in a pandemic. Others argue that freedom is an empty word if it's celebrated apart from an honest engagement with the country's history of racism.

Created Freedom under the Sign of the Cross offers a Catholic theological response to this crisis of freedom. Catholic social ethics may be better known for its emphasis on social principles like the common good and solidarity. But developments in Catholic theologies of freedom in the last decades provide fertile ground from which to develop a bold, creative response to this American crisis of freedom.

In this book, theologian David DeCosse draws on thinkers ranging from philosopher Amartya Sen to Black Catholic theologian Shawn Copeland to twentieth-century theological giant Karl Rahner in order to reimagine American freedom in light of classic Catholic emphases on embodiment, relationship, history, the good, and God. The result is a Catholic public theology that provides a redemptive path forward in an age of crisis.
Buy Link
https://www.amazon.com/Created-Freedom-under-Sign-Cross/dp/1666711101
Publication Date
6-8-2022
Publisher
Pickwick Publications
Recommended Citation
DeCosse, David E., "Created Freedom under the Sign of the Cross: A Catholic Public Theology for the United States" (2022). Faculty Book Gallery. 554.
https://scholarcommons.scu.edu/faculty_books/554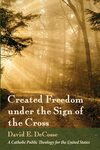 COinS