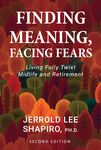 Title
Finding Meaning, Facing Fears: Living Fully Twixt Midlife and Retirement (2nd Edition)
Description
Our years between 45 and 65 are no longer a time for decline into old age. Ideally, once the awareness of our 40th 50th or 60th birthday hits, or the last child leaves home, a number of new opportunities arise, allowing us to savor what we have accomplished so far, create new directions, explore where we fit in the larger scheme of things, and determine what we ultimately want from our lives.
In Finding Meaning, Facing Fears: Living Fully Twixt Midlife and Retirement, clinical psychologist Jerrold Lee Shapiro invites you to re-envision this unique time in your life and discover opportunities to stretch in your capacities, face and conquer old demons, and meet new challenges with fresh resources.
Dr. Shapiro will help you discover which alternatives will best serve your relationships, career goals, personal growth objectives, and even spiritual quests. The text offers answers to inevitable life questions like: "Is that all there is?" "Where do I go from here?" "Is it too late to change my life?" "Why aren't I happier?" The book features real-life vignettes from 45-65-year old women and men who are exceedingly open and honest about their lives.
Thoughtful and empowering, Finding Meaning, Facing Fears offers fresh perspective on a previously uncharted life transition.
Buy Link
https://titles.cognella.com/finding-meaning-facing-fears-9781793527486
Publisher
Cognella Academic Publishing
Recommended Citation
Shapiro, Jerrold Lee, "Finding Meaning, Facing Fears: Living Fully Twixt Midlife and Retirement (2nd Edition)" (2021). Faculty Book Gallery. 546.
https://scholarcommons.scu.edu/faculty_books/546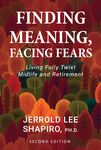 COinS