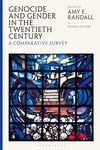 Title
Genocide and Gender in the Twentieth Century: A Comparative Survey, 2nd edition
Description
Focusing on events in Rwanda, Armenia, and the former Yugoslavia as well as the Holocaust, Genocide and Gender in the Twentieth Century investigates how historically- and culturally-specific ideas led to genocidal sexual violence. Expert contributors also consider how these ideas, in conjunction with issues relating to femininity, masculinity and understandings of gendered identities, contributed to perpetrators' tools and strategies for ethnic cleansing and genocide.
The 2nd edition features:

* Five brand new chapters which explore: imperialism, race, gender and genocide; the Cambodian genocide; memory and intergenerational transmission of Holocaust trauma; and genocide, gender and memory in the Armenian case.

* An extended and enhanced introduction which makes use of recent scholarship on gender and violence.

* Historiographical and bibliographical updates throughout.

* Key primary document - excerpt from the 1948 UN Convention on the Prevention and Punishment of Genocide.

Updated and revised in its second edition, Genocide and Gender in the Twentieth Century is the authoritative study on the complex gender dimensions of ethnic cleansing and genocide in the 20th century.
Buy Link
https://www.bloomsbury.com/us/genocide-and-gender-in-the-twentieth-century-9781350111035/
Publisher
Bloomsbury Academic
Disciplines
Feminist, Gender, and Sexuality Studies | History | History of Gender | Holocaust and Genocide Studies
Recommended Citation
Randall, Amy E., "Genocide and Gender in the Twentieth Century: A Comparative Survey, 2nd edition" (2021). Faculty Book Gallery. 541.
https://scholarcommons.scu.edu/faculty_books/541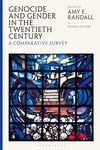 COinS