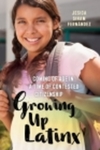 Title
Growing Up Latinx: Coming of Age in a Time of Contested Citizenship.
Description
An estimated sixty million people in the United States are of Latinx descent, with youth under the age of eighteen making up two-thirds of this swiftly growing demographic. In Growing Up Latinx, Jesica Siham Fernández explores the lives of Latinx youth as they grapple with their social and political identities from an early age, and pursue a sense of belonging in their schools and communities as they face an increasingly hostile political climate.

Drawing on interviews with nine-to-twelve-year-olds, Fernández gives us rare insight into how Latinx youth understand their own citizenship and bravely forge opportunities to be seen, to be heard, and to belong. With a compassionate eye, she shows us how they strive to identify, and ultimately redefine, what it means to come of age—and fight for their rights—in a country that does not always recognize them.

Fernández follows Latinx youth as they navigate family, school, community, and country ties, richly detailing their hopes and dreams as they begin to advocate for their right to be treated as citizens in full. Growing Up Latinx invites us to witness the inspiring power of young people as they develop and make heard their political voices, broadening our understanding of citizenship.
Buy Link
https://nyupress.org/9781479801220/growing-up-latinx/
Recommended Citation
Fernandez, Jesica S., "Growing Up Latinx: Coming of Age in a Time of Contested Citizenship." (2021). Faculty Book Gallery. 532.
https://scholarcommons.scu.edu/faculty_books/532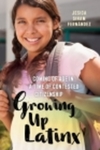 COinS