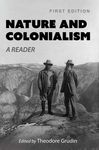 Nature and Colonialism: A Reader
Role
Editor: Theodore Grudin
Description
Nature and Colonialism: A Reader provides students with a collection of classic texts on environmental thought and invites them to analyze the texts alongside the often contrarian ideas of expansion, development, and human exceptionalism. Readers are encouraged to consider early perspectives on the hierarchical power relationships between political/economic entities and nature/peoples, and whether foundational views of environmentalism supported the proliferation of colonial ideology.

The collection begins with a piece by Zitkala-Sa, a Dakota Sioux activist and writer, and highlights a voice of resistance against the redefinition and reimagining of nature via colonialist thought. Students read seminal works related to nature by Charles Darwin, George Perkins Marsh, Henry David Thoreau, John Muir, and Gifford Pinchot. They are challenged to engage in sociocultural inquiry to better understand how views of the relationship between humans and nature have developed over time, as well as how they continue to shape modern thought and perspectives regarding environmentalism.

Designed to stimulate critical thought and inquiry, Nature and Colonialism is an ideal supplementary textbook for courses in environmental science or philosophy, especially those with emphasis on the relationship between humans and their environment.
Buy Link
https://titles.cognella.com/nature-and-colonialism-9781516596317
Publication Date
1-15-2020
Publisher
Cognella Academic Publishing
Disciplines
Environmental Sciences | Environmental Studies
Recommended Citation
Grudin, Theodore, "Nature and Colonialism: A Reader" (2020). Faculty Book Gallery. 502.
https://scholarcommons.scu.edu/faculty_books/502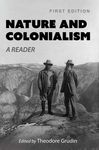 COinS