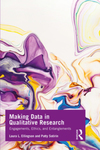 Making Data in Qualitative Research: Engagements, Ethics, and Entanglements
Description
Making Data in Qualitative Research offers a generative alternative to outdated approaches to data collection. By reimagining methods through a model of data engagement, qualitative researchers consider what is at stake—ethically, methodologically, and theoretically—when we co-create data and imagine possibilities for doing data differently.
Ellingson and Sotirin draw on critical, intersectional perspectives, including feminist, poststructuralist, new materialist, and postqualitative theorizing, to refigure methodological practices of data collection for the contemporary moment. Ellingson and Sotirin's data engagement model offers a vibrant framework through which data are made rather than found; assembled rather than collected or gathered; and becoming or dynamic rather than static. Further, pragmatism, compassion, and joy form a compelling ethical foundation for engaging with qualitative data reflecting the full range of critical, postpositivist, intepretivist, and arts-based research methods. Chapters illuminate creative possibilities for engaging fieldnotes, audio/video recordings and photographs, transcription, digital/online data, participatory data, and self-as-data.
Making Data in Qualitative Research is a great resource for researchers who want to move past simplistic approaches to qualitative data collection and embrace provocative possibilities for engaging with data. Bridging abstract theorizing and pragmatic strategies for making a wide variety of data, this book will appeal to graduate (and advanced undergraduate) qualitative methods students and early career researchers, as well as to advanced scholars looking to update and expand the scope of their methods.
Buy Link
https://www.routledge.com/Making-Data-in-Qualitative-Research-Engagements-Ethics-and-Entanglements/Ellingson-Sotirin/p/book/9780367178888
Publication Date
3-18-2020
Disciplines
Quantitative, Qualitative, Comparative, and Historical Methodologies
Recommended Citation
Ellingson, Laura L. and Sotirin, Patty, "Making Data in Qualitative Research: Engagements, Ethics, and Entanglements" (2020). Faculty Book Gallery. 497.
https://scholarcommons.scu.edu/faculty_books/497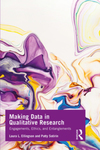 COinS