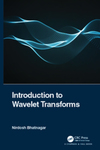 Introduction to Wavelet Transforms - 1st Edition
Description
The textbook, Introduction to Wavelet Transforms provides basics of wavelet transforms in a self-contained manner. Applications of wavelet transform theory permeate our daily lives. Therefore it is imperative to have a strong foundation for this subject.
Features
No prior knowledge of the subject is assumed. Sufficient mathematical background is provided to complete the discussion of different topics.
Different topics have been properly segmented for easy learning. This makes the textbook pedagogical and unique.
Notation is generally introduced in the definitions. Relatively easy consequences of the definitions are listed as observations, and important results are stated as theorems.
Examples are provided for clarity and to enhance reader's understanding of the subject.
Each chapter also has a problem section. A majority of the problems are provided with sufficient hints.
The textbook can be used either in an upper-level undergraduate or first-year graduate class in electrical engineering, or computer science, or applied mathematics. It can also be used by professionals and researchers in the field who would like a quick review of the basics of the subject.
Buy Link
https://www.routledge.com/Introduction-to-Wavelet-Transforms/Bhatnagar/p/book/9780367438791
Publication Date
2-13-2020
Publisher
Chapman and Hall/CRC
Disciplines
Applied Mathematics
Recommended Citation
Bhatnagar, Nirdosh, "Introduction to Wavelet Transforms - 1st Edition" (2020). Faculty Book Gallery. 494.
https://scholarcommons.scu.edu/faculty_books/494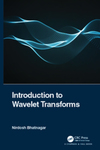 COinS