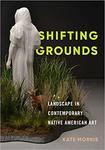 Shifting Grounds: Landscape in Contemporary Native American Art
Description
A distinctly Indigenous form of landscape representation is emerging in the creations of contemporary Indigenous artists from North America. For centuries, landscape painting in European art typically used representational strategies such as single-point perspective to lure viewers―and settlers―into the territories of the old and new worlds. In the twentieth century, abstract expressionism transformed painting to encompass something beyond the visual world, and later, minimalism and the Land Art movement broadened the genre of landscape art to include sculptural forms and site-specific installations.
In Shifting Grounds, art historian Kate Morris argues that Indigenous artists are expanding, reconceptualizing, and remaking the forms of the genre still further, expressing Indigenous attitudes toward land and belonging even as they draw upon mainstream art practices. The resulting works are rarely if ever primarily visual representations, but instead evoke all five senses: from the overt sensuality of Kay WalkingStick's tactile paintings to the eerie soundscapes of Alan Michelson's videos and Postcommodity's installations to the immersive environments of Kent Monkman's dioramas, this landscape art resonates with a fully embodied and embedded subjectivity.
In the works of these and many other Native artists, Shifting Grounds explores themes of presence and absence, connection and dislocation, survival and vulnerability, memory and commemoration, and power and resistance, illuminating the artists' sustained engagement not only with land and landscape but also with the history of representation itself.
Buy Link
https://www.amazon.com/Shifting-Grounds-Landscape-Contemporary-American/dp/0295745363
Publication Date
3-7-2019
Publisher
University of Washington Press
Disciplines
Art and Design | Painting
Recommended Citation
Morris, Kate, "Shifting Grounds: Landscape in Contemporary Native American Art" (2019). Faculty Book Gallery. 453.
https://scholarcommons.scu.edu/faculty_books/453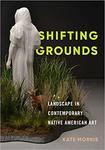 COinS