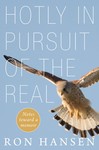 Title
Hotly in Pursuit of the Real: Notes Toward a Memoir
Description
In Hotly in Pursuit of the Real, the beloved bestselling novelist Ron Hansen opens the doors of his writing studio to share with us his passions for history, scandal, theology, Jesuits, the American West, and golf (which he plays even in bad weather).
If Hansen's novels explore people very different from himself—from a stigmatic nun to a Victorian poet to Billy the Kid, and even Hitler's niece—the meditations in this book do the opposite, allowing us to glimpse the wellsprings of his imagination, the places and traditions and books that drive him to create made-up worlds. In that sense, the reflections in these pages truly serve as "notes toward a memoir."
As each section unfolds, we gain a clearer sense of Hansen's aesthetic, the parallels he sees between writing and the sacraments, between literature's capacity to make history present to us and the Church's rich array of traditions, including the Jesuit charism that has inspired great writers, such as Gerard Manley Hopkins (and himself).
Equally adept at telling a hilarious anecdote and guiding us through a complex, ambiguous episode in history, Hansen's language remains fresh and invigorating. Hotly in Pursuit of the Real takes you inside one writer's imagination, only to send you back out into the wide world with new eyes.
Buy Link
https://wipfandstock.com/hotly-in-pursuit-of-the-real.html
Publication Date
1-15-2020
Disciplines
Creative Writing | Fiction
Recommended Citation
Hansen, Ron, "Hotly in Pursuit of the Real: Notes Toward a Memoir" (2020). Faculty Book Gallery. 438.
https://scholarcommons.scu.edu/faculty_books/438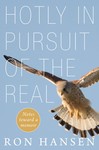 COinS