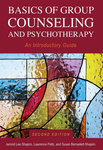 Title
Basics of Group Counseling and Psychotherapy: An Introductory Guide
Description
Basics of Group Counseling and Psychotherapy: An Introductory Guide provides a unique combination of step-by-step basics of group counseling and psychotherapy and considerable depth of understanding of the intricacies of group process. Students learn how to identify what is going on in their groups, what interventions are most likely to be effective, and when to make those interventions. The text provides readers a competent and effective foundation for their study and practice in group work.

The text is divided into three parts: The Core of Group process and Leadership, Pragmatic Considerations, and The Future. Part I offers a thorough introduction to brief, closed groups, guidance through four key phases of group counseling and psychotherapy—preparation, transition, treatment, and termination—and practical advice regarding leadership, therapeutic interventions, the essentials of training, ethical practices, and co-therapy. In Part II, the book dives into more advanced material, specifically addressing how to work with clients with difficult behaviors and offering the reader structured exercises and techniques they can apply in groups. Part III provides a perspective on the current state of group work and its future, touching on diversity, training, research, and more.

Written by counselors and therapists who have conducted group counseling and psychotherapy sessions for decades, Basics of Group Counseling and Psychotherapy is an invaluable resource for individuals who are new to group treatment and for those experienced group therapists looking for a review.
Buy Link
https://www.amazon.com/Basics-Group-Counseling-Psychotherapy-Introductory/dp/1516532503/ref=sr_1_1?ie=UTF8&qid=1550701248&sr=8-1&keywords=jerrold+shapiro+basics+of+group
Publication Date
4-2-2018
Publisher
Cognella Academic Publishing
Disciplines
Counseling Psychology | Psychology
Recommended Citation
Shapiro, Jerrold Lee; Peltz, Lawrence Stephen; and Bernadett-Shapiro, Susan, "Basics of Group Counseling and Psychotherapy: An Introductory Guide" (2018). Faculty Book Gallery. 405.
https://scholarcommons.scu.edu/faculty_books/405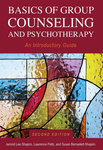 COinS