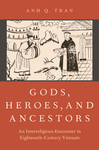 Title
Gods, Heroes, and Ancestors: An Interreligious Encounter in Eighteenth-Century Vietnam
Description
Though a minority religion in Vietnam, Christianity has been a significant presence in the country since its arrival in the sixteenth-century. Anh Q. Tran offers the first English translation of the recently discovered 1752 manuscript Tam Giáo Chu Vong (The Errors of the Three Religions).

Structured as a dialogue between a Christian priest and a Confucian scholar, this anonymously authored manuscript paints a rich picture of the three traditional Vietnamese religions: Confucianism, Buddhism, and Daoism. The work explains and evaluates several religious beliefs, customs, and rituals of eighteenth-century Vietnam, many of which are still in practice today. In addition, it contains a trove of information on the challenges and struggles that Vietnamese Christian converts had to face in following the new faith.

Besides its great historical value for studies in Vietnamese religion, language, and culture, Gods, Heroes, and Ancestors raises complex issues concerning the encounter between Christianity and other religions: Christian missions, religious pluralism, and interreligious dialogue.
Buy Link
https://www.amazon.com/Gods-Heroes-Ancestors-Interreligious-Eighteenth-Century-dp-0190677600/dp/0190677600/ref=mt_hardcover?_encoding=UTF8&me=&qid=1550701940
Publication Date
11-1-2017
Publisher
Oxford University Press
Disciplines
Asian History | Comparative Methodologies and Theories | History of Religion
Recommended Citation
Tran, Anh Q., "Gods, Heroes, and Ancestors: An Interreligious Encounter in Eighteenth-Century Vietnam" (2017). Faculty Book Gallery. 403.
https://scholarcommons.scu.edu/faculty_books/403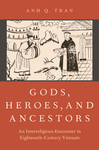 COinS