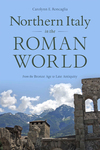 Title
Northern Italy in the Roman World: From the Bronze Age to Late Antiquity
Description
Carolynn E. Roncaglia's Northern Italy in the Roman World analyzes the effect of the Roman Empire on northern Italy, tracing the evolution of the region from the Bronze Age to the Gothic wars. A wealthy and strategically important region, northern Italy presents an interesting case study for examining the influence of the Roman state on the fluctuating geographic areas of Cisalpine Gaul that were under its control.
Using an array of epigraphic, archaeological, numismatic, and literary evidence, Roncaglia shows how Rome affected matters large and small, from loom weights to ritual horse burials, social networks to the careers of writers. Among the range of fascinating topics she discusses are Celtic migrations, the Roman conquest, Hannibal, long-distance trade networks, freedmen families, St. Ambrose, Catullus, and Pliny the Younger.
Northern Italy in the Roman World argues that the relationship between long-term trends and short-term events is key to understanding how Rome affected the territory within its empire. The book is the first major discussion of Roman northern Italy in English to appear since World War II and will be of special interest to scholars and students of the ancient world, European prehistory, the medieval world, and Italian studies.
Buy Link
https://www.amazon.com/Northern-Italy-Roman-World-Antiquity/dp/142142519X/ref=sr_1_fkmr0_1?ie=UTF8&qid=1550700317&sr=8-1-fkmr0&keywords=carolyn+roncaglia+northern+italy
Publication Date
5-15-2018
Publisher
Johns Hopkins University Press
Disciplines
European History
Recommended Citation
Roncaglia, Carolynn E., "Northern Italy in the Roman World: From the Bronze Age to Late Antiquity" (2018). Faculty Book Gallery. 400.
https://scholarcommons.scu.edu/faculty_books/400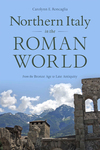 COinS