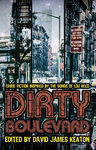 Dirty Boulevard: Crime Fiction Inspired by the Songs of Lou Reed
Description
Inspired by the outcasts, outlaws, and other outré inhabitants of rock legend Lou Reed's songbook, Dirty Boulevard traffics in crime fiction that's sometimes velvety and sometimes vicious, but always, absolutely, rock & roll. Inside, you'll find stories from the fire escapes to the underground, stories filled with metal machine music, stories for gender-bending, rule-breaking, mind-blasting midnight revelries and drunken, dangerous, dark nights of the heart.

Upcoming genre stars like Alison Gaylin team up with crime fiction legends such as Reed Farrel Coleman, along with Cate Holahan, Gabino Iglesias, Tony McMillen, and many of the most exciting new names in crime and horror fiction, who teach us that a perfect day is often anything but, that the power of positive drinking is a destructive force rarely contained, and that knock-down-drag-out drag queens are probably way tougher than you.

Dedicated to the memory and works of Jonathan Ashley.

Proceeds will benefit National Suicide Prevention Lifeline—1-800-273-8255.

Edited by David James Keaton.

Contributors: Jonathan Ashley, Rusty Barnes, Reed Farrel Coleman, Alison Gaylin, Lee Matthew Goldberg, Cate Holahan, Gabino Iglesias, David James Keaton, Erin Keaton, Ross E. Lockhart, Tony McMillen, Richard Neer, Chris Orlet, J. David Osborne, Rob Pierce, Eryk Pruitt and Patrick Wensink.
Buy Link
https://www.amazon.com/Dirty-Boulevard-Crime-Fiction-Inspired/dp/1948235498/ref=tmm_pap_swatch_0?_encoding=UTF8&qid=1550607336&sr=8-1
Publication Date
8-17-2018
Publisher
Down & Out Books
Disciplines
Creative Writing
Recommended Citation
Keaton, David James, "Dirty Boulevard: Crime Fiction Inspired by the Songs of Lou Reed" (2018). Faculty Book Gallery. 398.
https://scholarcommons.scu.edu/faculty_books/398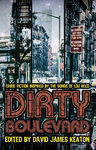 COinS