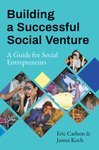 Title
Building a Successful Social Venture: A Guide for Social Entrepreneurs
Description
This is the first book on creating and running a social enterprise to combine theoretical discussions with current cases from around the world, filling a huge gap in the literature. It serves as an eminently practical blueprint for those who wish to build, sustain, and grow social ventures.

Building a Successful Social Venture draws on Eric Carlson's and James Koch's pioneering work with the Global Social Benefit Institute, cofounded by Koch at Santa Clara University's Miller Center for Social Entrepreneurship. Since 2003, over 200 Silicon Valley executives have mentored more than 800 aspiring social entrepreneurs at the GSBI. It is this unparalleled real-world foundation that truly sets the book apart. Early versions of the book were used in both undergraduate and MBA classes.

Part 1 of the book describes the assumptions that the GSBI model is based on: a bottom-up approach to social change, a focus on base-of-the-pyramid markets, and a specific approach to business planning developed by the GSBI. Part 2 presents the seven elements of the GSBI business planning process, and Part 3 lays out the keys to executing it. The book includes "Social Venture Snapshots" illustrating how different organizations have realized elements of the plan, as well as a wealth of checklists and exercises.

Social ventures hold enormous promise to solve some of the world's most intractable problems. This book offers a tested framework for students, social entrepreneurs, and field researchers who wish to learn more about the application of business principles and theories of change for advancing social progress and creating a more just world.
Buy Link
https://www.amazon.com/Building-Successful-Social-Venture-Entrepreneurs/dp/1523095946/ref=sr_1_1?ie=UTF8&qid=1550607635&sr=8-1&keywords=james+koch+successful+social+venture
Publication Date
9-18-2018
Publisher
Berrett-Koehler Publishers
Disciplines
Entrepreneurial and Small Business Operations
Recommended Citation
Koch, James and Carlson, Eric, "Building a Successful Social Venture: A Guide for Social Entrepreneurs" (2018). Faculty Book Gallery. 397.
https://scholarcommons.scu.edu/faculty_books/397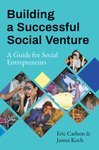 COinS