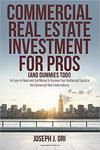 Title
Commercial Real Estate Investment for Pros (and Dummies Too!)
Description
Commercial Real Estate Investment for Pros (and Dummies Too!) is a book I have wanted to write for a number of years. The information in this book is derived from my thirty-five years of experience in the commercial real estate industry and the completion of more than $4 billion in commercial real estate transactions, including; acquisitions, finanings, sales, equity raises, advisory assigments, property and asset management.
The information contained in this book is for both seasoned real estate pros and those who are just starting out in the commercial real estate industry. This easy-to-read manual should be on the desk of every experienced real estate professional as well as first-year real estate analysts in his or her first job with a commercial real estate brokerage, development, service or investment firm.
The areas that are covered include commercial real estate investment, finance, development, capital markets, valuation strategies, institutional investment, leasing, financial analysis and discussion of legal aspects. The primary industry property types are analyzed including apartments, office buildings, shopping centers, industrial warehouses, lodging properties, and senior-housing properties. Modern portfolio theory, real estate risk, diversification, capitalization rates and calculation of real estate returns are also discussed and analyzed.
Buy Link
https://www.amazon.com/Commercial-Estate-Investment-Dummies-Read/dp/1979225451/ref=tmm_pap_swatch_0?_encoding=UTF8&qid=1550697381&sr=8-3
Publication Date
1-22-2018
Publisher
CreateSpace Independent Publishing Platform
Recommended Citation
Ori, Joseph, "Commercial Real Estate Investment for Pros (and Dummies Too!)" (2018). Faculty Book Gallery. 391.
https://scholarcommons.scu.edu/faculty_books/391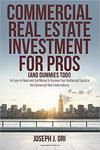 COinS