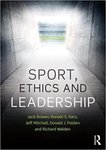 Title
Sport, Ethics and Leadership
Description
Everybody involved in sport, from the bleachers to the boardroom, should develop an understanding of ethics. Sport ethics prompt discussion of the central principles and ideals by which we all live our lives, and effective leadership in sport is invariably ethical leadership. This fascinating new introduction to sport ethics outlines key ethical theories in the context of sport as well as the fundamentals of moral reasoning. It explores all the central ethical issues in contemporary sport: from violence, hazing, and gambling to performance enhancement, doping, and discrimination.
This book not only investigates the ethical, social, and legal underpinnings of the most important issues in sport today, but also introduces the reader to the foundations of ethical leadership in sport and discusses which leadership strategies are most effective. Each chapter includes original real-world case studies, learning exercises, and questions to encourage students to reflect on the ethical problems presented.
Sport, Ethics and Leadership is an essential resource for any course on sport and leisure studies, the ethics and philosophy of sport, or sport and leisure management.
Buy Link
https://www.amazon.com/Sport-Ethics-Leadership-Jack-Bowen/dp/1138738476/ref=sr_1_1?s=books&ie=UTF8&qid=1516408342&sr=1-1&keywords=polden+sport
Publication Date
7-13-2017
Disciplines
Sports Studies
Recommended Citation
Mitchell, Jeffrey and Polden, Donald J., "Sport, Ethics and Leadership" (2017). Faculty Book Gallery. 354.
https://scholarcommons.scu.edu/faculty_books/354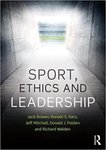 COinS