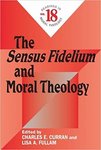 Title
The Sensus Fidelium and Moral Theology
Description
"Who are the laity"
In his seminal work on the sensus fidelium, On Consulting the Faithful in Matters of Doctrine (1859), John Henry Newman recounts that when Bishop William Ullathorne of Birmingham put this question to him, Newman "answered ... that the Church would look foolish without them."

In the wake of Pope Francis revival of the synod process and its attendant consultation of the Catholic laity in preparation for the Synod on the Family, The Sensus Fidelium and Moral Theology is an especially timely book. By presenting points of view on the sensus fidelium from a wide range of theologians and pastors, it makes an outstanding contribution by widening its application to ethical and not only doctrinal issues.

This volume will be consulted not only by students and professors of moral theology but also by all educated and involved lay people who want to see how the concept of the sensus fidelium, championed by one of the greatest minds of the nineteenth century, is experiencing a deserved revival after years of being consigned to limbo by those who would prefer to equate authentic Catholic teaching with the hierarchical magisterium.
Buy Link
https://www.amazon.com/Sensus-Fidelium-Moral-Theology-Readings/dp/0809153157/ref=sr_1_fkmr0_1?ie=UTF8&qid=1516401717&sr=8-1-fkmr0&keywords=lisa+fullum+the+sensus+fidelium
Publication Date
1-3-2017
Disciplines
Christianity | Ethics in Religion
Recommended Citation
Fullam, Lisa A. and Curran, Charles E., "The Sensus Fidelium and Moral Theology" (2017). Faculty Book Gallery. 343.
https://scholarcommons.scu.edu/faculty_books/343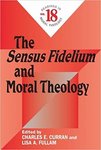 COinS