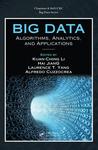 Title
Big Data: Algorithms, Analytics, and Applications
Description
As today's organizations are capturing exponentially larger amounts of data than ever, now is the time for organizations to rethink how they digest that data. Through advanced algorithms and analytics techniques, organizations can harness this data, discover hidden patterns, and use the newly acquired knowledge to achieve competitive advantages.

Presenting the contributions of leading experts in their respective fields, Big Data: Algorithms, Analytics, and Applications bridges the gap between the vastness of Big Data and the appropriate computational methods for scientific and social discovery. It covers fundamental issues about Big Data, including efficient algorithmic methods to process data, better analytical strategies to digest data, and representative applications in diverse fields, such as medicine, science, and engineering.
Overall, the book reports on state-of-the-art studies and achievements in algorithms, analytics, and applications of Big Data. It provides readers with the basis for further efforts in this challenging scientific field that will play a leading role in next-generation database, data warehousing, data mining, and cloud computing research. It also explores related applications in diverse sectors, covering technologies for media/data communication, elastic media/data storage, cross-network media/data fusion, and SaaS.
Buy Link
https://www.crcpress.com/Big-Data-Algorithms-Analytics-and-Applications/Li-Jiang-Yang-Cuzzocrea/9781482240559
Publication Date
2-23-2015
Disciplines
Applied Statistics | Categorical Data Analysis | Longitudinal Data Analysis and Time Series | Statistical Models
Recommended Citation
Fang, Yi and Ling, Nam, "Big Data: Algorithms, Analytics, and Applications" (2015). Faculty Book Gallery. 30.
https://scholarcommons.scu.edu/faculty_books/30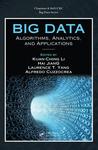 COinS