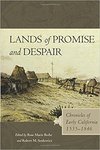 Title
Lands of Promise and Despair: Chronicles of Early California, 1535-1846.
Description
Land is often known by the names of past owners. "Emma's Land," "Gina's quarter," and "the Ingeborg Land" are reminders of the many women who homesteaded across North Dakota in the late nineteenth and early twentieth centures. Land in Her Own Name records these homesteaders' experiences as revealed in interviews with surviving homesteaders and their families and friends, land records, letters, and diaries.These women's fascinating accounts tell of locating a claim, erecting a shelter, and living on the prairie. Their ethnic backgrounds include Yankee, Scandinavian, German, and German-Russian, as well as African-American, Jewish, and Lebanese. Some were barely twenty-one, while others had reached their sixties. A few lived on their land for life and "never borrowed a cent against it"; others sold or rented the land to start a small business or two provide money for education.For this paperback edition, Elizabeth Jameson's new foreword situates the homesteading experience for women within the larger context of western history.
Buy Link
https://www.amazon.co.uk/Lands-Promise-Despair-Chronicles-California/dp/0806151382/ref=sr_1_1?s=books&ie=UTF8&qid=1499810480&sr=1-1&keywords=Lands+of+Promise+and+Despair%3A+Chronicles+of+Early+California%2C+1535-1846.
Publication Date
8-6-2015
Publisher
University of Oklahoma Press
Disciplines
United States History
Recommended Citation
Senkewicz, Robert M. and Beebe, Rose Marie, "Lands of Promise and Despair: Chronicles of Early California, 1535-1846." (2015). Faculty Book Gallery. 288.
https://scholarcommons.scu.edu/faculty_books/288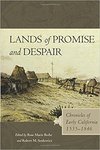 COinS