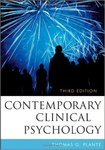 Contemporary Clinical Psychology
Description
A realistic and contemporary portrayal of the dynamic field of clinical psychology
Thoroughly revised and updated to reflect the most current topics professionals will face in clinical practice, the "Third Edition" takes an integrative biopsychosocial approach throughout and features:
New coverage of innovations in psychotherapy and their implications for interventions, changing populations, and assessment
Up-to-date discussion of empirically supported treatments, technology-assisted treatments such as Web-based interventions, and new cognitive behavior treatments such as ACT
Insights into prevention, ethics, evidence-based treatments, and confidentiality laws and regulations including HIPAA
Case studies detailing the theoretical conceptualization, assessment, and treatment of clients
Chapter-ending "Big Picture" synopses and lists of key points and terms, as well as unique "Real Students, Real Questions" sections featuring actual questions asked by clinical psychology students
Firsthand career advice from a diverse group of mental health professionals
Current and future trends, plus a step-by-step road map that covers all aspects of becoming a clinical psychologist
This broad-spectrum overview of the art and science of clinical psychology explores many different perspectives in many different settings. Author Thomas Plante draws from his own experience as a practicing clinician and college professor to reveal how science and application function together in the day-to-day practice of psychology.
This paper has been withdrawn.