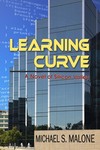 Title
Learning Curve: A Novel of Silicon Valley
Description
Get an inside view of the breathless, winner-take-all world of high technology — Silicon Valley style — in this fast-paced corporate thriller.
Veteran businessman Dan Crowen is finally handed the reins of a large, successful tech firm, Validator Software — only to be ordered by its eccentric owner, Cosmo Validator, to take a step that could destroy the company.
Young entrepreneur Alison Prue is at the helm of Validator's upstart rival, eTernity. When the venture capitalists funding eTernity decide it's time to take the hot young startup public and go head-to-head against Validator, both Alison and Dan are caught up in a global tsunami of high-tech conspiracies.
Nothing's as it seems in this high-stakes game of cat and mouse that will keep you guessing the whole way through.
Buy Link
http://barkingrainpress.org/learning-curve/
Publisher
Barking Rain Press
Disciplines
Business | Corporate Finance | Fiction
Recommended Citation
Malone, Michael S., "Learning Curve: A Novel of Silicon Valley" (2013). Faculty Book Gallery. 108.
https://scholarcommons.scu.edu/faculty_books/108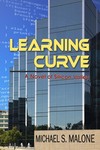 COinS