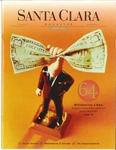 Description
10 - THE IMPORTANCE OF REMEMBERING By Tamara Straus. On the I0-year anniversary, Santa Clara looks back at the Jesuit murders in El Salvador and finds a lasting legacy for the campus community.
16 - 64 MILLIONAIRES A DAY By Susan Vogel. Are they savvy or stingy? The wealthy in Silicon Valley are taking a new approach to philanthropy, but are they giving their fair share?
20 - EDUCATING FOR LIFE AND LEADERSHIP Santa Clara University is just months away from launching its year-long 150th anniversary celebration. Here's a preview of the five major sesquicentennial events.
Publication Date
Spring 2000
Publisher
Santa Clara : Santa Clara University, 2000.
Disciplines
Arts and Humanities | Business | Education | Engineering | Law | Life Sciences | Medicine and Health Sciences | Physical Sciences and Mathematics | Social and Behavioral Sciences
Recommended Citation
Santa Clara University, "Santa Clara Magazine, Volume 41 Number 4, Spring 2000" (2000). Santa Clara Magazine. 93.
https://scholarcommons.scu.edu/sc_mag/93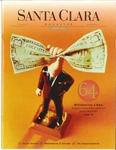 COinS