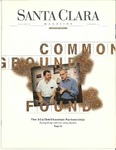 Description
8 - NOT WITH MY DAUGHTER, YOU DON'T! By Susan Fry. An SCU psychologist explores the correlation between dating and self-esteem for adolescent girls.
12 - COMMON GROUND FOUND By Tamara Straus. SCU has a new partner: the Smithsonian Center for Mate rials Research and Education. Together they are pursuing what a top-notch 21st-century education will require.
16 - THE NEW VOICES OF SANTA CLARA By Nichole Pichel, Miguel Legarreta, Charlene Abalos, Audrey Bilczo, and Jennifer Farris. Five incoming students share their experience of building values in a world of uneven prosperity, opportunity, and choice.
Publication Date
Winter 1999
Publisher
Santa Clara : Santa Clara University, 1999.
Disciplines
Arts and Humanities | Business | Education | Engineering | Law | Life Sciences | Medicine and Health Sciences | Physical Sciences and Mathematics | Social and Behavioral Sciences
Editor
Tamara Straus (Acting editor)
Recommended Citation
Santa Clara University, "Santa Clara Magazine, Volume 41 Number 3, Winter 1999" (1999). Santa Clara Magazine. 92.
https://scholarcommons.scu.edu/sc_mag/92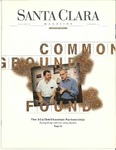 COinS