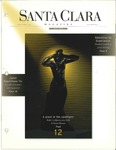 Description
8 - A BRIDGE BETWEEN WORLDS By President PaulL. Locatelli, S.J. 'Go. President Locatelli examines the value of service learning for students, the University, and America's social fabric.
12 - A GIANT ARTIST By Ann Granning Bennett. Auguste Rodin's sculptures are now on view at the de Saisset Museum. The question is: How do high-profile art shows like this one come about?
18 - ARIZONA'S DIPLOMATIC TOP COP By Tamara Straus. Janet Napolitano ' 79 , Arizona's newly elected attorney general , discusses the challenges of public office as well as politics, ethics, and fighting crime.
Publisher
Santa Clara : Santa Clara University, 1999.
Disciplines
Arts and Humanities | Business | Education | Engineering | Law | Life Sciences | Medicine and Health Sciences | Physical Sciences and Mathematics | Social and Behavioral Sciences
Editor
Tamara Straus (Acting editor)
Recommended Citation
Santa Clara University, "Santa Clara Magazine, Volume 41 Number 1, May 1999" (1999). Santa Clara Magazine. 91.
https://scholarcommons.scu.edu/sc_mag/91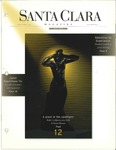 COinS