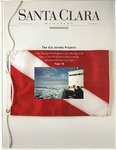 Description
8 - EARTHBOUND IN TUSCANY By Susan Vogel. Cultivating the soil and restoring a Tuscan farmhouse became regenerative physically and spiritually for SCU English professor Edward Kleinschmidt.
14 - PREMIES By Sue Frey. Kathy (Straus) VandenBerg '66 pioneers a rule-defying path, as she puts tenderness and love above tubes and isolation in caring for premature newborns.
18 - SEA HUNT By Connie Hinckley. SCU SCREEM team members probe the blue-black waters of the Arctic Ocean for historic bounty using high-tech robotics.
26 - THE VILLAGE PEOPLE By Kathleen (Nino) Castello '88. Some 40 years ago a community of ex-GIs and their families experienced the quonset-hut variety of dorm life on the edge of the SCU campus.
Publisher
Santa Clara : Santa Clara University, 1998.
Disciplines
Arts and Humanities | Business | Education | Engineering | Law | Life Sciences | Medicine and Health Sciences | Physical Sciences and Mathematics | Social and Behavioral Sciences
Editor
Ann Granning Bennett
Recommended Citation
Santa Clara University, "Santa Clara Magazine, Volume 40 Number 3, November 1998" (1998). Santa Clara Magazine. 89.
https://scholarcommons.scu.edu/sc_mag/89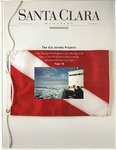 COinS