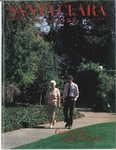 Description
12 - CARING FOR AGING PARENTS As Americans live longer, children find themselves making decisions for their parents.
16 - KIDNAPPED IN BEIRUT Charles Glass '72 writes about his 62 days of captivity and his escape to freedom.
20 - A MARK OF SUCCESS Mark Alsterlind '76, living in Van Gogh's hometown, pursues his dream to be a painter.
24 - GIFT OF THE MAGUS A wise man from England brought gifts still warmly treasured by Santa Clara.
26 - IS BRAINWASHING POSSIBLE? An absorbing interview on mind control with law professor Alan Scheflin.
Publication Date
Summer 1988
Publisher
Santa Clara : Santa Clara University, 1988.
Disciplines
Arts and Humanities | Business | Education | Engineering | Law | Life Sciences | Medicine and Health Sciences | Physical Sciences and Mathematics | Social and Behavioral Sciences
Recommended Citation
Santa Clara University, "Santa Clara Magazine, Volume 30 Number 4, Summer 1988" (1988). Santa Clara Magazine. 79.
https://scholarcommons.scu.edu/sc_mag/79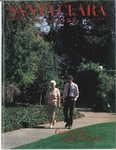 COinS