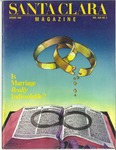 Description
10 - IS MARRIAGE REALLY INDISSOLUBLE? Santa Clara's noted marriage scholar examines the sacrament of marriage from an historical perspective. By Theodore J. Mackin, S.J.
14 - MENTOR AND GADFLY In a companion piece, marriage scholar Ted Mackin, S.J., is the subject of a profile. By Katherine Ann Tanelian and Paul Hennessy
17 - ON THE ROAD WITH JESSE JACKSON An AP reporter and alumna takes us behind the scenes to learn what it's like covering , a candidate.
21 - FEATS OF CLAY Clay Barbeau '59 is one of the hottest personalities on the counseling psychology circuit today. By Mitch Finley
26 - OPPORTUNITY FOR GREATNESS What does it take for leaders to perform at their personal best? By James M. Kouzes and Barry Z. Posner
28 - GOING TO THE HILLS A headline grabbing event in Latin America, a priest-guerrilla, is a common occurrence in the Philippines. By Francis Smith, S.J.
Publication Date
Spring 1988
Publisher
Santa Clara : Santa Clara University, 1988.
Disciplines
Arts and Humanities | Business | Education | Engineering | Law | Life Sciences | Medicine and Health Sciences | Physical Sciences and Mathematics | Social and Behavioral Sciences
Recommended Citation
Santa Clara University, "Santa Clara Magazine, Volume 30 Number 3, Spring 1988" (1988). Santa Clara Magazine. 78.
https://scholarcommons.scu.edu/sc_mag/78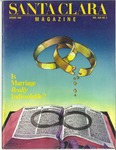 COinS