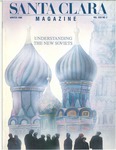 Description
10 - UNDERSTANDING THE NEW SOVIETS A first-person account of the Soviet Union today by the author of two books on Russia. By Jim Garrison
16 - HOW TO GET INTO ADVERTISING An English graduate goes from waiting tables to a senior vice presidency on Madison Avenue. By Barbara Boyle
20 - 1988 ECONOMIC FORECAST For 15 years, Mario Belotti's been making forecasts that are amazingly accurate. By Mario Belotti
22 - SANTA CLARA AND THE POPES Reviewing historic links with Rome shows how it affected SCU. By Gerald McKevitt, S.J.
26 - SCU'S ETERNAL FLAIM Biology professor Frank Flaim is in his 50th year at Santa Clara. By Patricia Fowler
Publication Date
Winter 1988
Publisher
Santa Clara : Santa Clara University, 1988.
Disciplines
Arts and Humanities | Business | Education | Engineering | Law | Life Sciences | Medicine and Health Sciences | Physical Sciences and Mathematics | Social and Behavioral Sciences
Recommended Citation
Santa Clara University, "Santa Clara Magazine, Volume 30 Number 2, Winter 1988" (1988). Santa Clara Magazine. 77.
https://scholarcommons.scu.edu/sc_mag/77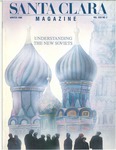 COinS