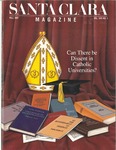 Description
10 - CAN THERE BE DISSENT IN CATHOLIC UNIVERSITIES? SCU's president makes clear where the University stands on this important issue. By William J. Rewak, S.J.
17 - WHAT'S AHEAD IN THE WORLD OF HIGH TECH? Former Business ~ek reporter Jack Wilson looks to the future of Silicon Valley.
21 - GREEKS ON CAMPUS-HERE TO STAY? What makes sororities and fraternities appealing to SCU undergraduates?
28 - GLASS IMAGE Tom Kelly '72 unlocks memories of classmate Charlie Glass after Glass's abduction last June.
30 - THE AGE OF AQUARIUS REVISITED Six members of the class of '67 talk about their 20 years since graduation.
Publication Date
Fall 1987
Publisher
Santa Clara : Santa Clara University, 1987.
Disciplines
Arts and Humanities | Business | Education | Engineering | Law | Life Sciences | Medicine and Health Sciences | Physical Sciences and Mathematics | Social and Behavioral Sciences
Recommended Citation
Santa Clara University, "Santa Clara Magazine, Volume 30 Number 1, Fall 1987" (1987). Santa Clara Magazine. 76.
https://scholarcommons.scu.edu/sc_mag/76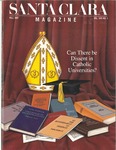 COinS