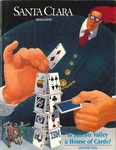 Description
2 - IS SILICON VALLEY A HOUSE OF CARDS? By Michael S. Malone. A fresh, freewheeling forecast of the future of Silicon Valley.
7 - MOTIVATING CHILDREN TO SUCCEED By Ruth E. Cook. The author suggests some guidelines for helping children who don't work up to their true potential.
11 - IN SEARCH OF HUMANITY By William J. Rewak, S.J. Santa Clara's president explores the university's role in the development of the human person.
16 - LEARNING TO LEAD A photo feature of executives at the beach, engaged in a new and appealing program from the Executive Development Center that teaches them to become leaders. Photos by Gene Miller. Text by Peg Major.
20 - THE REAL POVERTY TRAP By Frances Moore Lappe. The author of Diet for a Small Planet discusses sixth myths that exist about poverty.
26 - A POLITICIAN'S ODYSSEY By Diane Dreher and William Stovet: California Assemblyman and SCU alumnus John Vasconcellos is the subject of this article by two members of the Santa Clara faculty.
29 - FROM DONOHOE ALUMNI HOUSE By Jerry Ken; executive director of the Alumni Association. A new column of news and notes about alumni activities and plans.
30 - NEWS FROM CAMPUS Keeping you up-to-date between issues of Santa Clara Today.
Publisher
Santa Clara : Santa Clara University, 1986.
Disciplines
Arts and Humanities | Business | Education | Engineering | Law | Life Sciences | Medicine and Health Sciences | Physical Sciences and Mathematics | Social and Behavioral Sciences
Recommended Citation
Santa Clara University, "Santa Clara Magazine, Volume 28 Number 3, Winter 1986" (1986). Santa Clara Magazine. 71.
https://scholarcommons.scu.edu/sc_mag/71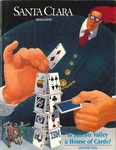 COinS