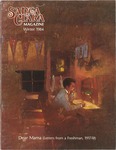 Description
2 - DEAR MAMA Letters from a 1917 Freshman to his family provide a firsthand glimpse of life at Santa Clara during the early months of World War I.
9 - THE SUPREME COURT AND THE 1984 ELECTION by Russell W. Galloway. A court without liberals is a real possibility if President Reagan runs and wins in 1984.
12 - THE MACHINE AND THE WORKBENCH by William Byron S.J. Much of the direction of the American enterprise system will depend on which of these two guiding metaphors is selected.
14 - A VISIT TO THE MISSION GARDENS A new self-guided tour of the Mission Gardens is helping visitors discover some of the historic treasures from the Mission period and early days of Santa Clara College.
16 - TIME AND ETERNITY By Frederick D. Wilhelmsen. A popular philosophy teacher from the 1950s returns to "talk philosophically" with some of his former students and to honor the memory of Austin Fagothey, S.J.
20 - BELL ON EDUCATION Excerpts from a talk by U.S. Secretary of Education Terrel H. Bell to the SCU Board of Fellows in Washington, D.C., last fall.
22 - THE RELIGIOUS MORALITY OF WARFARE by Robert McAfee Brown. A distinguished Protestant scholar identifies his four "most pressing" moral conclusions about a possible nuclear war.
24 - NEWS OF SANTA CLARA
25 - THE CAMPAIGN FOR SANTA CLARA by Kenneth E. Cool
Publisher
Santa Clara : Santa Clara University, 1984.
Disciplines
Arts and Humanities | Business | Education | Engineering | Law | Life Sciences | Medicine and Health Sciences | Physical Sciences and Mathematics | Social and Behavioral Sciences
Recommended Citation
Santa Clara University, "Santa Clara Magazine, Volume 26 Number 3, Winter 1984" (1984). Santa Clara Magazine. 68.
https://scholarcommons.scu.edu/sc_mag/68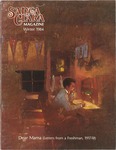 COinS