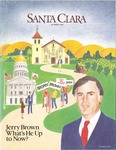 Description
2 - ALBEE'S ST. GEORGE AND THE DRAGON By Michael Tueth, S.J. Some principles of archetypal criticism are applied to Albee's Who's Afraid of Virginia Woolf?
7 - NUCLEAR ADDICTION Edmund G. Brown Jr. The United States and the Soviet Union are engaged in an addictive and ultimately lethal process. Neither will break out of the curse of assured mutual destruction.
9 - GIVE US THIS DAY OUR DAILY BREAD By Charles E. French. There are good reasons today to hope for a solution to world hunger, one that will occur in our time.
13 - TRAITS OF A HEALTHY FAMILY By Dolores Curran. Five hundred professional family counselors identified the top 15 traits found in a healthy family.
18 - IS EDUCATION READY FOR THE INFORMATION SOCIETY? By Lee Mahon and Shirley McCune. The computer determines the way we live, work and play. Does it affect the way we educate our children? Absolutely!
21 - JERRY BROWN - WHAT'S HE UP TO NOW? His ties with Santa Clara are discussed and we learn what he's been doing since he left Sacramento.
24 - THE CATHOLIC AND THE BIBLE By Francis Smith, SJ. A Jesuit theologian talks about the relationship between Catholicism and Fundamentalism and draws some conclusions of his own.
28 - NEWS OF SANTA CLARA
29 - THE CAMPAIGN FOR SANTA CLARA
Publisher
Santa Clara : Santa Clara University, 1984.
Disciplines
Arts and Humanities | Business | Education | Engineering | Law | Life Sciences | Medicine and Health Sciences | Physical Sciences and Mathematics | Social and Behavioral Sciences
Recommended Citation
Santa Clara University, "Santa Clara Magazine, Volume 26 Number 8, Summer 1984" (1984). Santa Clara Magazine. 67.
https://scholarcommons.scu.edu/sc_mag/67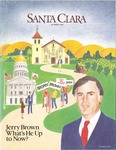 COinS