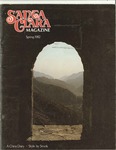 Description
3 - A CHINA DIARY The President's log of the first Catholic delegation to visit China since Cardinal Spellman's visit in 1949. By William J. Rewak, S.J.
16 - PERSONAL FINANCIAL PLANNING A guide to handling financial affairs, especially for those just starting out. By Francis J. Corrigan.
19 - STYLE BY STRUNK Uncommon thoughts about the common language, based on Strunk and White's The Elements of Style. By James P. Degnan.
22 - PHILOSOPHICAL SKIRMISHES ON THE AIR A world-famous philosopher reminisces about some of his broadcast debates with other philosophers over the British Broadcasting Company. By Frederick C. Copleston, S.J.
24 -NEWS OF SANTA CLARA Catching up on the latest news on the campus between issues of Santa Clara Today.
Publisher
Santa Clara : Santa Clara University, 1982.
Disciplines
Arts and Humanities | Business | Education | Engineering | Law | Life Sciences | Medicine and Health Sciences | Physical Sciences and Mathematics | Social and Behavioral Sciences
Recommended Citation
Santa Clara University, "Santa Clara Magazine, Volume 24 Number 8, Spring 1982" (1982). Santa Clara Magazine. 64.
https://scholarcommons.scu.edu/sc_mag/64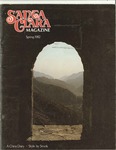 COinS