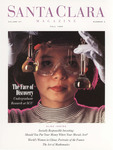 Santa Clara Magazine, Volume 36 Number 4, Fall 1995
Description
6 - THE MIND THIEF November is national Alzheimer's Disease Month, drawing attention to an illness that robs patients of their memories, their competence, sometimes their very personalities. By Maureen Mclnaney '85
12 - CREDIBILITY MAKES A DIFFERENCE A look at a key element of leadership: building trust. By James M. Kouzes and Barry Z. Posner
18 - PUTTING THE PIECES TOGETHER SCU's $125 million Challenge Campaign is transforming the University.
24 - NO PROBLEMO A racked-up knee, a forfeited football scholarsh ip, an extra 50 pounds- no problemo. A work of short fiction. By Jan Maulhardt '90
28 - THE NUCLEAR NIGHTMARE AND THE DREAM OF PEACE Under the direction of Jim Garrison '73, the Gorbachev Foundation turns a former Coast Guard commandant's home into a center for the advancement of peace. By Anne Chalfant
This paper has been withdrawn.